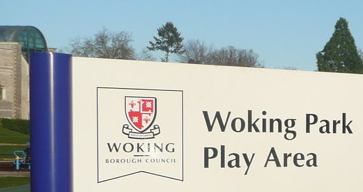 Woking Borough Council will start the long awaited refurbishment of the Woking Park play area next week.
The Council consulted local residents some time ago on the idea of improving and extending the play area – and drew up an ambitious play to completely refurbish the well-used play area.
The refurbishment works include extending the play area site by reinforcing the embankment by the Pool in the Park to bring these areas back into use as part of the play area.  Following a motion to Council from my Lib Dem colleague, Councillor Liam Lyons – there will also be an additional fenced 'dog free' picnic area adjacent to the play area.
Clearly it is far from ideal for Woking Park's play area to be unavailable due to refurbishment during the school summer holidays – I understand the work will take up to 17 weeks, so the play area should be reopened in early November 2014.
One Response to "Woking Park Play Area Refurbishment"
Amy Says:
July 15th, 2014 at 2:19 pm

So the park will be ready just in time for winter!!!!why wasn't it all started sooner to be ready for the summer holidays????? Ridiculous if you ask me
Leave a Reply